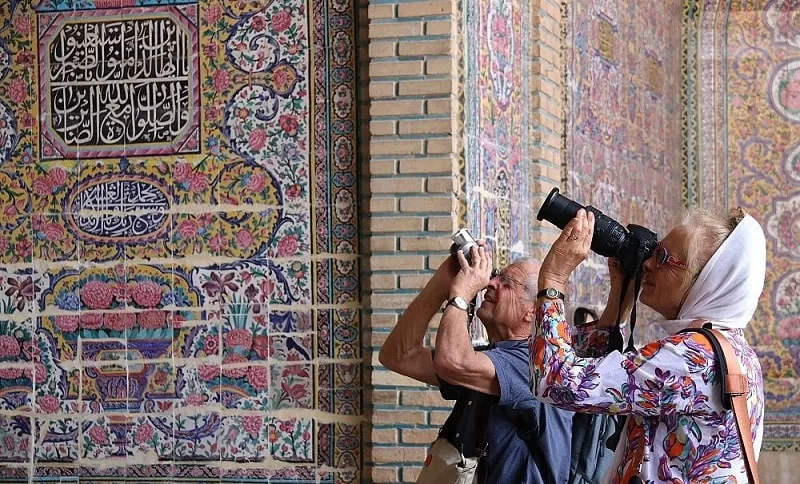 Iran travel agencies are essential for people who want to visit Iran. An Iran travel agency helps travelers have a great time exploring the country's historical and cultural sites. Iran has many beautiful cities and landscapes, making it a popular destination for tourists.
Travel agencies in Iran offer different services to meet the needs of tourists. They organize guided tours to famous places like Persepolis and Isfahan's Naqsh-e Jahan Square. They also plan exciting adventures in the deserts and mountains. Best Iran tour agencies help tourists get the right permits and navigate the visa process.
Iran travel agencies don't just focus on typical sightseeing. They also offer special tours for food lovers, workshops for those interested in crafts, and eco-friendly trips. These agencies have a lot of knowledge about off-the-beaten-path locations, allowing tourists to discover hidden gems and create lasting memories.
As Iran's tourism industry grows, travel agencies play a crucial role in promoting the country's unique attractions and providing visitors from all over the world with unforgettable experiences.
Why to choose an Iranian Travel agency?
There are several good reasons. First, you'll get a more reasonable price compared to buying a package from a middleman.
Second, a trusted Iranian local agency can provide a more authentic local experience because their offers are designed with the knowledge of locals in the destination. They can provide you a vide varaiety of Iran tours and you'll have many options.
Also, because of this local knowledge, it's easier to customize and personalize the offer to suit your preferences, which is not always possible with pre-prepared packages. So, it's a smart choice to opt for a local agency when planning a trip to a foreign country.
Thankfully, reputable inbound tour agencies in Iran always offer English (and sometimes other languages like French, Spanish, or German) on their website, making it easier for you to choose the best option for your trip.
Best Iran travel agencies and tour operators
The best Iran travel agencies and tour operators offer exceptional services, ensuring travelers have an unforgettable journey through this captivating country. These agencies have a strong reputation for providing well-planned itineraries, knowledgeable local guides, and seamless arrangements for accommodations and transportation. With a focus on customer satisfaction, they cater to various interests, from historical and cultural tours to adventurous and off-the-beaten-path experiences. The best Iran travel agencies are trusted partners, making sure tourists explore the country's hidden gems and immerse themselves in its rich heritage with ease and comfort.
Persian Journeys
Persian Journeys is a Tehran tour agency specializes in day trips, hourly tours, and comprehensive tour packages across Iran's captivating cities.
Whether you're a history enthusiast eager to delve into the ancient wonders of Persepolis and Pasargadae, a culture lover seeking the vibrant bazaars and mosques in Isfahan, or an adventure seeker yearning to traverse the captivating landscapes of the Iranian deserts and mountains, Persian Journeys has something to offer for everyone.
Their team of experienced and knowledgeable travel professionals is committed to curating personalized itineraries that match individual interests and preferences. They go the extra mile to ensure that each traveler's journey is seamless and filled with delightful surprises.
From arranging comfortable accommodations to providing expert local guides who share fascinating insights into Iran's rich heritage and traditions, Persian Journeys ensures that every aspect of your trip is carefully planned and executed with utmost care.
2. Fanous Travels
Fanous Travels is a dedicated team of seasoned travel professionals committed to creating the most cherished memories for travelers exploring Iran. With their extensive experience, they go above and beyond to ensure that visitors have the best possible experiences during their journey in this remarkable country.
3. Derak Shiraz
Derak Tour & Travel Agency is an experienced Iranian tour operator in Shiraz, with 21 years of experience. They began in 1998, authorized by the Iranian Cultural Heritage Organization. The name "Derak" was chosen after a beautiful mount in Shiraz.
Their team is enthusiastic and dedicated to providing excellent services. They have been offering various services for over two decades, including ticketing, outbound, inbound, and domestic tours.
4. Iran Tour
Iran Tour Company is an experienced travel agency with 27 years in the industry. Their team of young and skilled staff brings a fresh approach to the expertise of the previous generation. As one of the pioneers in tour operators in Iran, they offer a wide range of services, including visa assistance, hotel bookings, transfers, flights, tours, and multilingual tour guides, ensuring a safe and enjoyable trip for all travelers.
Specializing in various package and tailor-made tours like cultural, adventure, nature, MICE, and sports, Iran Tour leads the way in the country's tourism industry. They leverage technology to provide the latest and best services, making sure travelers have an unforgettable and pleasant experience.
5. Shidrokh Travel
Shidrokh Travel, The Shiraz-based company is a local travel agency that provides a wide range of travel services in Iran, including visa assistance, transfers, and local tour guides. Alongside the traditional historical and cultural tours, they also offer unique and eco-friendly tour packages like Iran Nomad & village tours, women-only tours, and thrilling adventurous trips. Their aim is to create unforgettable experiences for travelers while promoting creativity and sustainability in their tours.
6. Palizma
Palizma is a travel agency from Iran that provides a diverse selection of tours and travel packages within the country. Alongside classic Iran tours, they also offer exciting routes to destinations like Chabahar and Qeshm Island. One of their notable advantages is their well-priced tour packages, making them a top choice for budget travelers.
7. Raadina
Raadina Travel Co. is an authorized tour operator company based in Iran's Yazd Province, licensed by the Ministry of Cultural Heritage, Handicrafts, and Tourism. Since its establishment in 2016, Raadina Travel Co. has been dedicated to showcasing the hidden potentials of Iran's tourism. Their focus lies in offering tailor-made tour packages, each designed around different themes, all ensuring high quality and competitive prices. Through their tours, they aspire to introduce new and unique perspectives of Iran that few have had the opportunity to witness.
8. Persian Gryphon
Persian Gryphon is a travel counselor group and tour operator based in Iran, welcoming visitors from all over the world. They specialize in organizing diverse tours within Iran, helping travelers explore the best sites the country has to offer. Their team takes great pleasure in introducing tourists to the incredible wonders and attractions of Iran.
9. Sito Travel
Sito Travel is a privately-owned company, led by a skilled team with extensive experience in tourism and travel since 2002. They have earned a strong reputation among international travel companies and received the CS award for customer satisfaction in both 2015 and 2017.
10. Pardisan Tour and Travel
Pardisan Tour & Travel Company was founded in May 1994 and has a team of experienced professionals skilled in domestic ticketing and tours. They are accredited by IATA and JATA and were previously authorized by ASTA. As a leading destination management company (DMC) in Iran, we arrange inbound and outbound tours to various global destinations. Additionally, Pardisan Tour & Travel Agency is a member of the board of directors of the Iranian Tour Operators Association (ITOA).
Top Iranian Local Tour Operators
There is another type of Iranian tour operators who plays a crucial role in providing valuable insights and enhancing the travel experience for visitors. Local tourist guides in Iran are typically well-versed in the country's history, culture, and attractions. When choosing a local tourist guide for Iran tours, it's essential to look for reputable guides. These guides typically undergo training and certification to provide high-quality service. Travel agencies and tour operators often collaborate with local guides to offer comprehensive tour packages that cater to various interests and budgets.
Here are top Iranian local tourist guides and tour operators for your trip to Iran.
How an Iran travel agency will help travelers?
An Iranian travel agency acts as a valuable partner, simplifying the travel process and ensuring that tourists can make the most of their time in this beautiful and culturally-rich country. An Iran travel agency will help travelers in several ways:
Itinerary Planning: Travel agencies in Iran will work with travelers to create customized itineraries based on their interests and preferences. They will suggest popular destinations and unique experiences, ensuring that the trip aligns with the traveler's expectations.
Visa and Documentation Assistance: Obtaining the necessary visas and permits for traveling to Iran can be complicated. Travel agencies will guide travelers through the Iran visa application process, making it easier and more straightforward. They can handle Iran visa on arrival for you in advanced.
Accommodation and Transportation: Iranian Travel agencies will arrange accommodations according to the traveler's budget and preferences. They can also help with booking domestic flights, trains, or private transportation to get around the country comfortably. It's important to understand that booking accommodation from outside Iran can be challenging through online platforms. To secure a reservation, you typically need to be within the country or seek assistance from locals, like an Iranian travel agency, local tour guides, or friends residing there, who can help book a hotel on your behalf.
Local Guides: Iran travel agencies often provide knowledgeable local guides who speak multiple languages. These guides can offer insights into the history, culture, and customs of various regions, enriching the travel experience.
Safety and Support: Travel agencies prioritize their clients' safety and well-being. They provide emergency contacts, assistance in case of any unforeseen situations, and ensure travelers have a contact person during their trip.
Read More:

Iran Safety Rules: Key Guidelines for a Memorable and Secure Adventure

Iran Safety Rules: Essential Tips for a Secure and Enjoyable Journey

Cultural Experiences: Travel agencies may arrange special cultural experiences like attending local festivals, workshops, or traditional performances, giving travelers an authentic taste of Iranian culture.
Accessibility to Off-the-Beaten-Path Places: Iran has many hidden gems and less-known destinations that may not be easily accessible to independent travelers. Travel agencies can take tourists to these lesser-explored places, enhancing the overall experience.
Language Assistance: Language barriers can sometimes be challenging while traveling in Iran. Travel agencies often offer translation services or can provide guides fluent in the traveler's language.

Exploring Iran: Overcoming Language Barriers with a Local Guide
How to find a trusted travel agency in Iran?
Finding a trusted travel agency is essential to ensure a smooth and enjoyable travel experience. Here are some steps you can follow to find a reliable travel agency:
Research Online: Start by researching travel agencies online. Look for agencies that specialize in trips to Iran and have positive reviews from previous customers. Read testimonials and reviews on travel websites and forums to get an idea of their reputation.
Check Accreditation: Verify if the travel agency is accredited by reputable travel associations or organizations. Membership in organizations like the International Air Transport Association (IATA) or the American Society of Travel Advisors (ASTA) can indicate their credibility.
Seek Recommendations: Ask friends, family, or colleagues who have traveled to Iran for their recommendations. Personal referrals can be a reliable way to find trustworthy travel agencies.
Evaluate Experience: Check the agency's experience and how long they have been in business. An established agency with years of experience is more likely to have a track record of providing quality services.
Contact the Agency: Reach out to the travel agency directly. Ask them questions about their services, itineraries, and the level of support they provide to travelers. A responsive and helpful agency is a positive sign.
Compare Prices and Services: Compare the prices and services offered by different travel agencies. While cost is important, it shouldn't be the sole factor in your decision. Consider the value they provide for the price offered.
Read Terms and Conditions: Carefully read the agency's terms and conditions. Make sure you understand their cancellation policies, refund procedures, and any other important details.
Verify Licensing: Check if the travel agency is licensed and registered with the appropriate government authorities. This ensures they operate legally and adhere to certain standards.
Look for Specialization: Some travel agencies focus on specific types of travel, such as cultural tours, adventure trips, or luxury vacations. Choose an agency that aligns with your travel interests.
Trust Your Instincts: If something feels off or too good to be true, trust your instincts and proceed with caution. Choose an agency that gives you confidence and makes you feel comfortable.
By following these steps and doing thorough research, you can find a trusted travel agency that will help you have a memorable and hassle-free trip to Iran.