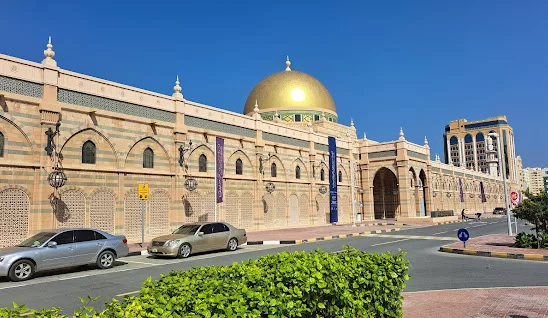 Welcome to a wonderful journey through Sharjah, a lively city full of exciting things to do! If you're looking for fun experiences, you're in the right place with our list of activities in Sharjah. This city in the United Arab Emirates has a lot to offer, from learning about its history to enjoying art and even going on thrilling desert adventures. Whether you love history, art, or trying new things, our Sharjah city tour has something for you. Let's explore the treasures of this city together!
When you step into Sharjah, a mix of old and new, you'll find many interesting things to discover. Our guide to Things to do in Sharjah will show you all the different aspects of the city's culture. During your Sharjah city tour, you'll have exciting and educational experiences. Museums will take you back in time with ancient objects. Beautiful Arabic writing will captivate you, and traditional markets will let you experience history. You can even go on desert adventures to see the stunning landscapes. Come with us and uncover the best things to do in Sharjah, a city that's ready to amaze and inspire you.
Find local tour guides in Sharjah
Why to Visit Sharjah?
There are plenty of great reasons to visit Sharjah! This city in the United Arab Emirates offers a unique blend of culture, history, and modern attractions that cater to various interests. Here are some compelling reasons to consider visiting Sharjah:
Rich Cultural Heritage: Sharjah is known for its deep-rooted cultural heritage. You can explore numerous museums, galleries, and heritage sites that showcase the region's history, art, and traditions.
Historical Landmarks: The city is home to well-preserved historical landmarks such as forts, traditional souqs, and old architecture. These sites offer insights into the emirate's past and its significance in the region.
Art and Creativity: Sharjah is a hub for arts and culture. It hosts art festivals, exhibitions, and houses several art museums, making it a paradise for art enthusiasts and those seeking creative inspiration.
Family-Friendly Attractions: With places like the Sharjah Science Museum and Al Montazah Parks, the city offers family-friendly attractions that combine entertainment with education.
Beautiful Gardens and Parks: Al Noor Island and Kalba Corniche Park are just a couple of the city's serene green spaces where you can relax, take leisurely walks, and enjoy nature.
Unique Experiences: Attractions like the Rain Room, where you can walk through simulated rain without getting wet, provide unique and memorable experiences.
Desert Adventures: The surrounding desert offers opportunities for desert safaris, dune bashing, camel rides, and other exciting outdoor activities.
Find best desert tours in Dubai
Culinary Delights: Experience the flavors of Emirati cuisine and international fare at the city's diverse range of restaurants and markets.
Waterfront Charm: The Al Qasba and Al Majaz Waterfront areas provide picturesque waterfront views, entertainment options, and opportunities to unwind by the water.
Educational Opportunities: The city's numerous museums and educational centers offer insights into various subjects, from Islamic civilization to maritime history and beyond.
Shopping: Traditional souqs like Souq Al Jubail and modern shopping centers offer a range of shopping experiences, from traditional handicrafts to contemporary fashion.
Natural Beauty: From coastal areas along the Gulf of Oman to desert landscapes, Sharjah showcases the diverse natural beauty of the region.
Events and Festivals: The city hosts a variety of events and festivals throughout the year, celebrating art, culture, and heritage.
Blend of Old and New: Sharjah's ability to blend its rich history with modern developments creates a unique atmosphere that appeals to a wide range of visitors.
Warm Hospitality: Visitors often comment on the warm hospitality and friendliness of the local people, making your stay even more enjoyable.
Explore Khor Fakkan Tours and activities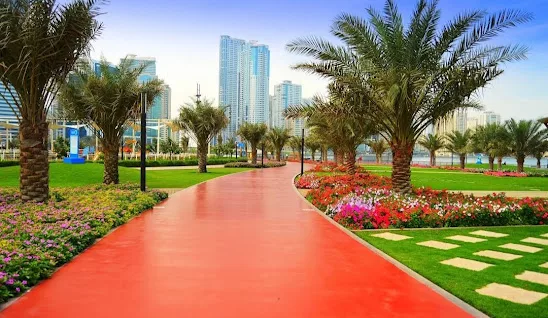 Things to do in Sharjah
These are just a few examples of the many tours, activities, and attractions that Sharjah has to offer. Whether you're interested in culture, history, art, or outdoor adventures, Sharjah has something for every type of traveler. Just be sure to check for any updates or changes to attractions or activities before planning your visit. You can also visit the city by local tour guides in Sharjah which is much more fun and exciting.
Sharjah Museum Tour: Sharjah boasts an array of museums that provide insight into its rich history and culture. The Sharjah Museum of Islamic Civilization showcases artifacts from the Islamic world, including manuscripts, ceramics, and textiles. The Sharjah Art Museum exhibits a diverse collection of contemporary and traditional art. The Sharjah Heritage Museum offers a journey through the emirate's past, highlighting its customs and traditions. The Sharjah Calligraphy Museum celebrates the art of Arabic calligraphy, showcasing its evolution and significance.
Sharjah Desert Safari: A desert safari is an adventurous way to experience the vastness and beauty of the desert. Activities like dune bashing involve driving over sand dunes in a 4×4 vehicle for an adrenaline rush. Camel riding offers a slower-paced exploration, allowing you to experience the traditional mode of transportation. Sandboarding lets you glide down sand dunes, akin to snowboarding. The safari often concludes with a Bedouin-style dinner, where you can savor local cuisine while seated under the starlit desert sky.
Al Noor Island: Al Noor Island is an oasis of tranquility that features meticulously landscaped gardens, contemporary art installations, and a captivating Butterfly House. Visitors can enjoy leisurely walks amidst lush greenery and explore the immersive art installations that blend nature and creativity.
Al Qasba: Al Qasba is a dynamic waterfront area known for its diverse offerings. The Eye of the Emirates Ferris wheel provides panoramic views of the city and the Gulf. A stroll along the canal walk offers picturesque views and a serene ambiance. The area features numerous restaurants and cafes, providing a variety of dining options. It also hosts events, concerts, and festivals that infuse the area with cultural vibrancy.
Sharjah Aquarium: Perfect for families, the Sharjah Aquarium lets you discover marine life from the Gulf and beyond. It offers a close-up look at a variety of aquatic species through interactive exhibits and educational displays.
Al Majaz Waterfront: This bustling waterfront destination is known for its stunning views of the city skyline and large fountain show, which comes alive with music and lights in the evenings. The area offers a multitude of dining options, allowing visitors to enjoy a meal with waterfront ambiance.
Sharjah Arts Area: The Sharjah Arts Area encompasses several key spots such as the Arts Square, Calligraphy Square, and the Calligraphy Museum. These spaces highlight the region's deep-rooted connection to art and culture, showcasing works of calligraphy, paintings, sculptures, and other artistic expressions.
Sharjah Science Museum: Geared towards all ages, the Sharjah Science Museum offers a hands-on and interactive exploration of various scientific principles. Visitors can engage with exhibits that cover topics ranging from physics and chemistry to astronomy and technology.
Al Hisn Fort: Al Hisn Fort is a historic landmark that provides a window into Sharjah's past. The fort is home to a museum housing an array of artifacts and displays that chronicle the emirate's history, offering insights into its architecture, governance, and heritage.
Sharjah Central Souq (Blue Souq): This bustling marketplace is a treasure trove for shoppers seeking a taste of local culture. Known as the Blue Souq due to its blue-tiled exterior, it offers an array of goods including textiles, jewelry, antiques, and handicrafts. It's a must-visit for those looking to bring home unique souvenirs.
Al Montazah Parks: Al Montazah Parks offer family-friendly entertainment with a variety of attractions, including water rides, play areas, and beautifully landscaped gardens. It's a great place for both children and adults to have fun outdoors.
Boat Tours: Embarking on a boat tour allows you to experience Sharjah's coastline from a unique perspective. Enjoy breathtaking views of the city and its skyline as you cruise along the water, capturing memorable moments.
Al Qasimi Palace: Al Qasimi Palace, the former residence of the ruling Al Qasimi family, provides a glimpse into the royal history of Sharjah. The palace's architecture, interiors, and exhibits offer a rich insight into the emirate's past and heritage.
Sharjah Archaeology Museum: The Sharjah Archaeology Museum is a treasure trove of artifacts that unveil the ancient history of the region. Through carefully curated exhibitions, visitors can explore the archaeological discoveries that shed light on the region's prehistoric and historical eras.
Sharjah Beaches: While Sharjah's beaches have specific regulations on attire, they provide a relaxing environment to enjoy the sun and sea. Al Khan Beach and Al Mamzar Beach are popular choices, offering sandy shores and views of the Gulf.
Rain Room: The Rain Room at the Sharjah Art Foundation offers a surreal and enchanting experience. As you step into this immersive art installation, you'll find yourself surrounded by falling raindrops. However, thanks to advanced technology, you won't get wet as you walk through the rain. It's a captivating sensory journey that challenges your perception and interaction with nature, making it a unique and unforgettable experience.
Sharjah Discovery Centre: Designed with young learners in mind, the Sharjah Discovery Centre is an interactive science museum that engages children in educational and entertaining ways. Through hands-on exhibits, kids can explore scientific concepts, conduct experiments, and discover various aspects of the natural world, fostering curiosity and learning through play.
Sharjah Maritime Museum: Delve into the maritime history of the region at the Sharjah Maritime Museum. This museum showcases the integral role that maritime activities, such as fishing, pearling, and trade, have played in shaping Sharjah's history. The displays include traditional boats, artifacts, and multimedia presentations that provide insights into the seafaring traditions and culture of the area.
Sharjah Calligraphy Museum: Immerse yourself in the intricate world of Arabic calligraphy at the Sharjah Calligraphy Museum. This museum celebrates the art form's history, techniques, and cultural significance. It showcases a diverse range of calligraphic styles and works, reflecting the beauty and depth of this artistic tradition.
Al Eslah School Museum: Step back in time at the Al Eslah School Museum, a restored historic school building that offers a glimpse into the traditional Emirati education system and daily life. Through exhibits and artifacts, visitors can learn about the educational practices and values that were once a cornerstone of the local community.
Souq Al Jubail: Souq Al Jubail is a modern marketplace that captures the essence of Sharjah's vibrant local culture and flavors. It houses various sections including a fish market, vegetable and fruit market, meat market, and more. Visitors can experience the liveliness of a bustling market, interact with vendors, and sample fresh produce and local products.
Sharjah Heritage Area: Stroll through the charming Sharjah Heritage Area, which is characterized by its traditional architecture, narrow alleyways, and historic buildings. This area offers a glimpse into Sharjah's past, with structures that have been preserved and restored to reflect the city's cultural heritage.
Sharjah Fort (Al Hisn Sharjah): The Sharjah Fort, also known as Al Hisn Sharjah, is a beautifully restored fortress that stands as a testament to the city's history and strategic importance. It provides insights into the fort's role in protecting the region and offers a museum experience with artifacts that shed light on its historical context.
Mleiha Archaeological Centre: Explore the captivating prehistoric and ancient history of the region at the Mleiha Archaeological Centre. Engage in guided tours that take you through archaeological sites, including fossil hunting areas and sand dunes. Discover artifacts, ancient settlements, and geological wonders that reveal the region's fascinating past.
Kalba Corniche Park: Enjoy the tranquility of the Kalba Corniche Park, a scenic coastal park overlooking the Gulf of Oman. Whether you're looking to take a leisurely walk, have a picnic, or simply unwind with stunning views, this park offers a serene environment to connect with nature.
Al Hamriyah Studios: Art enthusiasts will find a haven at Al Hamriyah Studios, an art space and studio complex. The studios offer workshops, exhibitions, and the opportunity to engage with local artists. It's a place where creativity thrives and visitors can immerse themselves in the artistic process.
Sharjah Golf & Shooting Club: Experience both leisure and sport at the Sharjah Golf & Shooting Club. Enjoy a round of golf on well-maintained courses, or test your precision at the shooting range. The club also offers relaxation opportunities at its clubhouse facilities.
Sharjah Archaeological Museum: The Sharjah Archaeological Museum takes visitors on a historical journey through the region's past. Spanning from the Stone Age to the Islamic era, the museum's exhibits showcase archaeological artifacts that provide insights into the daily life, customs, and advancements of the people who lived in the area.
Al Buhaira Corniche: The Al Buhaira Corniche is a picturesque waterfront promenade offering stunning views of the city skyline. It's an inviting spot for a leisurely stroll or jog, allowing you to enjoy the beauty of the surrounding landscape while staying active.
Flag Island: Experience a unique vantage point at Flag Island, where a large UAE flag stands proudly against the backdrop of the city. The island features a pedestrian bridge and offers a serene atmosphere for a leisurely walk, relaxation, and taking in the impressive views.
Find Abu Dhabi city tours and activities
Find local tourist guides in Abu Dhabi
When is the best time to visit Sharjah?
The best time to visit Sharjah is during the cooler months, which generally fall between November and April. This period offers more pleasant weather for outdoor activities and exploration. The climate in Sharjah, like much of the UAE, is characterized by hot summers and mild winters. Here's a breakdown of the seasons and what you can expect during each:
Winter (November to February): This is the most popular time to visit Sharjah. During the winter months, the temperatures are more comfortable, ranging from around 15°C (59°F) to 25°C (77°F). It's an ideal time for outdoor activities, sightseeing, and enjoying the various attractions that Sharjah has to offer. It's also the peak tourist season, so you can expect more crowds and higher prices.
Spring (March to April): Spring is another good time to visit Sharjah, as the temperatures remain mild and pleasant. The weather starts to warm up, with temperatures ranging from 20°C (68°F) to 30°C (86°F). This is a great time for outdoor explorations and enjoying the city's parks and gardens.
Summer (May to September): Summer in Sharjah is extremely hot, with temperatures often exceeding 40°C (104°F) during the daytime. The high heat and humidity can make outdoor activities uncomfortable for many travelers. If you decide to visit during the summer, be prepared for indoor activities, staying hydrated, and taking precautions against the sun.
Autumn (October): Early October can still be quite warm in Sharjah, but temperatures start to become more bearable as the month progresses. It's a transitional period as the weather begins to cool down, making it a better time for outdoor activities compared to the peak of summer.
Keep in mind that religious holidays, such as Ramadan, can affect your travel plans in Sharjah. During Ramadan, which follows the Islamic lunar calendar and changes dates each year, many restaurants and attractions may have altered hours of operation, and there might be restrictions on eating and drinking in public during daylight hours.
the best time to visit Sharjah for a comfortable and enjoyable experience is during the winter and spring months (November to April), when the weather is more moderate. However, it's always a good idea to check the specific weather forecasts and local events before planning your trip to ensure you make the most of your visit.