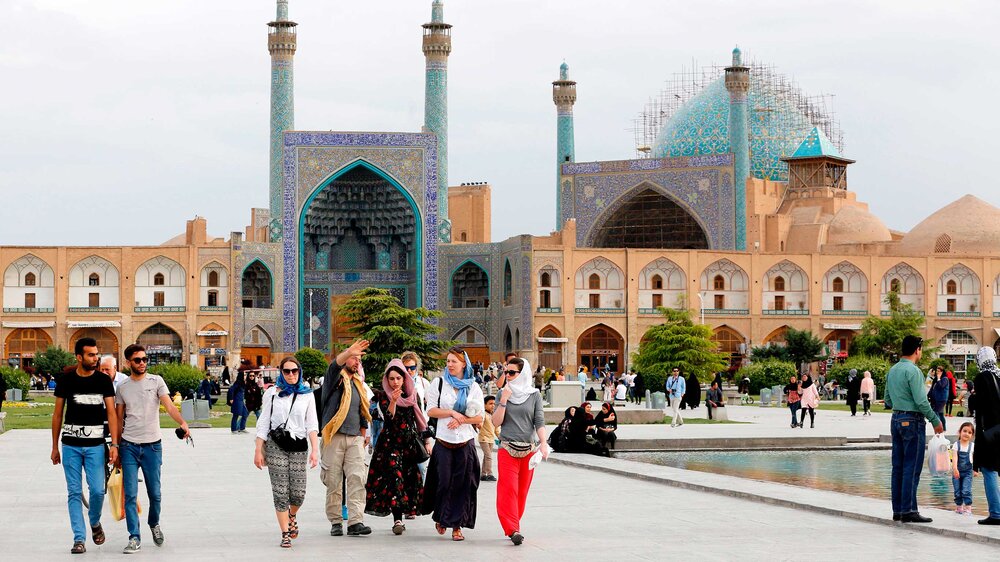 Iran, a country in The Middle East, is a popular place to visit because it has a fascinating culture, history, and beautiful landscapes. If you're from India and want to go to Iran as a tourist, you can apply for an Iran tourist visa. Indian citizens have two options for getting this visa: they can apply online or go to an Iranian embassy. The application process involves filling out a form, providing necessary documents, and paying the visa fee. Typically, Iran tourist visa for Indians allows you to stay in Iran for up to 30 days, and if you want to stay longer, you can extend it for another 30 days while you're in the country. Iran has many historical and cultural attractions like ancient ruins, mosques, and museums, so it's a great destination for people interested in history and architecture.
Read more: Travel to Iran from India
How to Apply for an Iran Tourist Visa for Indians
If you're an Indian citizen planning to visit Iran, you need to obtain a tourist visa before you can enter the country. Although the visa application process might seem challenging, it's actually quite straightforward if you follow the correct steps. In this article, we will guide you through the process of getting an Iran tourist visa for Indian citizens, so you can start planning your vacation to this fascinating country.
Although getting an Iran visa on Arrival (e-Visa) is not possible for Indians, Fortunately, getting an Iran tourist visa is quite straightforward for Indians. You have two options: you can apply for the visa online or visit the Iranian embassy in India. However, it's important to note that the online application process may take some time and require additional documents. The tourist visa for Indians is usually valid for 30 days and can be extended once you're in Iran. It's recommended to apply for your Iran tourist visa at least a few weeks in advance of your planned travel date to allow enough time to complete the application process. By this you'll have no worries for your travel to Iran from India.
Determine if you are eligible for a tourist visa
Before you apply for an Iran tourist visa as an Indian citizen, it's important to confirm your eligibility. Generally, tourists from most countries, including India, are eligible for a tourist visa. However, there are certain limitations and criteria to be aware of. If you have previously visited Israel, for instance, you might face closer examination during the visa application process. Additionally, you must have a valid passport with at least six months of remaining validity, and you might be asked to provide additional documents such as proof of travel insurance and a return ticket.
Provide the necessary documents for your application
If you're an Indian citizen planning to apply for an Iran tourist visa, there are some important documents you need to gather beforehand. These documents include a valid passport with at least six months remaining validity, a completed visa application form, a passport-sized photo, evidence of travel insurance, and a return ticket. It's also important to note that if you have visited Israel before, you may need to provide additional documents to explain the purpose of your trip and your activities while you were there. To avoid any delays or the rejection of your visa application, make sure you understand all the requirements and gather all the necessary documents before submitting your application.
Required Documents:
A valid passport that remains valid for at least six months beyond your planned departure date.
Two copies of the visa application form, filled out completely, signed, and dated by the applicant.
One original passport-sized photograph with a front view, white background, and taken recently.
If your passport contains any Israeli stamps, it is strongly recommended to obtain a new passport before traveling.
A copy of your resume from a Certified Professional Resume Writer (CPRW). The resume should include personal information such as age, height, weight, and eye color.
A copy of the invitation letter from the company you will be visiting in Iran. The invitation letter should be registered and verified by the Ministry of Foreign Affairs.
A letter from your employer that specifies the purpose and duration of your proposed trip.
Submit your application and pay the visa fee
Once you have provided all the required documents, you can proceed to submit your visa application and pay the applicable fee. For Indian citizens, the current visa fee is 1,600 INR. There are two options for applying: you can either apply online through the Iran e-Visa website or visit the Iranian embassy or consulate in India.
It's important to keep in mind that the processing time for the visa may vary, so it's advisable to apply well in advance of your planned travel dates. Once your visa is approved, you will receive an authorization code. This code needs to be presented at the Iranian embassy or consulate to collect your visa.
Once you have obtained your visa, you can start making arrangements for your trip and explore all the amazing things that Iran has to offer as a tourist destination.
Wait for your visa to be processed and approved
After you have submitted your visa application and paid the necessary fee, you will need to wait for your application to be processed and approved. It's important to note that processing times can vary, so it's advisable to apply well in advance of your intended travel dates.
During the processing period, you can check the progress of your application online through the Iran e-Visa website or contact the Iranian embassy or consulate for updates.
Once your visa is approved, you will receive an authorization code. This code will be required when you visit the embassy or consulate to collect your visa.
It's worth mentioning that the visa itself is valid for a period of 90 days from the date of issue. This means you must enter Iran within 90 days of receiving the visa. Additionally, the visa allows for a stay of up to 30 days in Iran, starting from the date of your entry into the country.
Can Indian get Iran Visa on Arrival?
No. Iran visa on arrival is not eligible for all countries and Indian people are not included. Indian residents should apply for their visa in advanced. Fortunately the process is easy and most of the time an application for Iran visa result in a tourist visa without any problems.
Why Indians are interested to visit Iran?
Iran offers a tapestry of experiences that cater to the diverse interests of Indian travelers. Whether you seek architectural marvels, spiritual enlightenment, natural beauty, cultural immersion, or trade opportunities, Iran promises an enriching journey. So, get ready to embark on an unforgettable adventure and create memories that will last a lifetime in this captivating country.
Read more: Travel to Iran from India
What are the best tours for Indian traveling Iran?
It's important to choose a tour that aligns with your interests and preferences. Consider factors like duration, activities included, and the reputation of the tour operator. Research and read reviews to ensure you select a reputable tour company that provides a well-rounded and enjoyable experience.
There are several exciting tours available for Indian travelers visiting Iran. Here are some popular options:
Historical and Cultural Tour: This tour focuses on Iran's rich history and cultural heritage. You can explore ancient cities like Tehran, Isfahan, Shiraz, and Persepolis, which are filled with historical sites, magnificent architecture, and stunning mosques.
Explore Tehran tours and find which one is best for you.
Check Shiraz tours, a must see city in Iran.
Desert Adventure Tour: Iran is home to vast deserts like Dasht-e Kavir and Lut Desert. A desert adventure tour allows you to experience the breathtaking landscapes, ride camels, and spend nights under the starry sky in traditional desert camps.
Take a look at Isfahan tours and also Kashan tour where you can find a desert tour in Iran.
Persian Food and Culinary Tour: Iranian cuisine is renowned for its flavors and variety. A culinary tour will take you on a gastronomic journey to savor delicious Persian dishes, visit local food markets, and even participate in cooking classes to learn traditional recipes.
Nature and Wildlife Tour: Iran boasts diverse natural landscapes, including lush forests, majestic mountains, and picturesque lakes. Nature and wildlife tours offer opportunities for hiking, wildlife spotting, and exploring stunning national parks like Golestan and Kavir.
Religious and Spiritual Tour: Iran is a significant destination for pilgrims and spiritual seekers. You can visit holy sites such as Mashhad, Qom, and the stunning Blue Mosque in Tabriz, immersing yourself in the spiritual atmosphere and learning about Iran's religious traditions.
How much money is enough for Indian during travel to Iran?
The amount of money needed for a trip to Iran can vary depending on various factors such as the duration of your stay, your travel style, and the activities you plan to engage in. However, it's always a good idea to have a budget and plan your expenses accordingly. Here are some general guidelines to help you estimate the costs:
Accommodation: The cost of accommodation in Iran can vary depending on the type and location. Budget hotels and guesthouses can cost around 15,000,000 to 10,000,000 Iranian Rials per night, while mid-range hotels may range from 25,000,000 to 50,000,000 Iranian Rials per night.
Food: Dining in Iran is generally affordable. Local restaurants and street food offer a wide range of delicious options at reasonable prices. On average, you can expect to spend around 3,000,000 to 5,000,000 Iranian Rials per day on food.
Transportation: Public transportation in Iran, such as buses and trains, is relatively inexpensive. Taxis and ridesharing services are also available in cities. Depending on your travel distance and mode of transportation, budget around 5,000,000 to 10,000,000 Iranian Rials per day for transportation expenses.
Sightseeing and Activities: Entrance fees to historical sites, museums, and other attractions in Iran can vary. It's a good idea to research the specific sites you plan to visit and factor in the entrance fees. Budget an average of 2,000,000 to 5,000,000 Iranian Rials per attraction.
Miscellaneous Expenses: It's always wise to keep some extra money for unexpected expenses, shopping, souvenirs, and emergencies. Budget an additional amount depending on your personal preferences and requirements.
As a rough estimate, a budget traveler can expect to spend around 40,000,000 to 60,000,000 Iranian Rials per day (including accommodation, food, transportation, and activities). This estimate may vary based on your travel choices and preferences.
Keep in mind that currency exchange rates fluctuate, so it's advisable to check the rates before your trip and consider carrying a mix of cash and cards for convenience.
It's also recommended for Indian to travel to Iran with guided Iran tours provided by Iranian local guides or travel agencies in Iran to reduce costs. Most tours provide accommodations and transportation so you do not need to worry about this.