As a local tour guide or travel agency, you may have a simple question:
How will travelers will get in touch with you?
There are two ways for a traveler to get in touch with tour operators and local guides:
Send a message
Traveler can find you or your tours, check your profile, info and prices and send you a message for more details or any other questions. For your information, your profile and your tours appear in each city tours you have selected in your profile.
We let travelers to send a message for a customized tour or check details with locals before their booking. Please keep in mind it's not allowed to send your contact info to travelers or ask for their contact info.
We will inform you by email as soon as you receive a message from travelers. You can see all your messages in your inbox.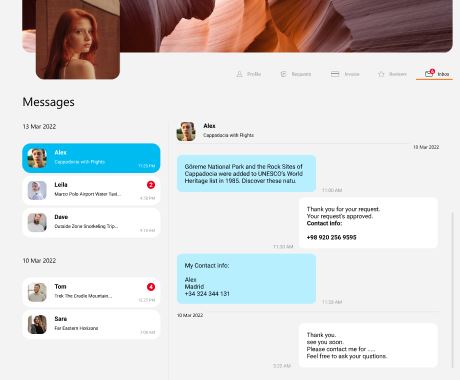 Send a booking request
Travelers can send you a booking request for your tours if you've provided detailed tours on the website. This request includes date, number of travelers, name of service and a note. You can approve or decline the requests you receive, based on your priorities.
If you approve their request, they will pay 15% of booking price to book the service. This is our commission and the rest (85% of booking price) will pay to you directly by traveler at the meeting point.
We will inform you by email for every booking request that you receive. You can see all your requests in your request page.